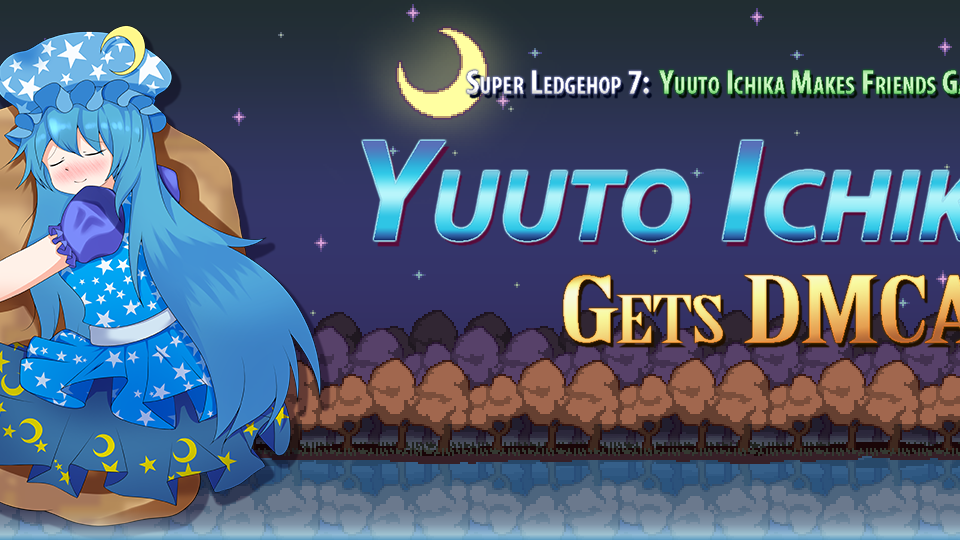 Yuuto Ichika Gets DMCA'd
A downloadable game for Windows and Linux
Defeat your enemies by only dashing!
Yuuto Ichika Gets DMCA'd is about best bootleg Yuuto Ichika, and it's also about defeating bosses solely by dashing!

It's also a bootleg fangame of LAME Dimension's works, especially:
By dashing all over the screen quickly, you'll charge up an attack — Yuuto's famous rock — which defeats your opponents in one blow!
The more time you spend dashing — and the more screen area you cover — the faster you'll charge your attack!
It's designed especially for speedrunning!
There's many highly technical mechanics to master, providing a high ceiling for potential improvement.
A boss phase might initially take you 40 seconds to defeat, but with mastery you may actually clear it in 4 seconds!
Even a barely optimized speedrun takes less than five minutes, and you can speedrun on any difficulty you like, so it's quite accessible to try out.
There's even an online leaderboard where you can watch every player's replays!
A quick feature summary:
Three playable characters,

each with a unique ability set and story.

Story and gameplay based heavily on LAME Dimension's works.

Almost everything is probably a reference or obscure joke (I'm sorry!)

Five complex boss fights.

Built-in leaderboards

with

online replay support.

Four difficulty levels.

They range from "relatively relaxed" to "masochistic".
Each is carefully designed; they do not simply change boss stats.

Custom bindings

for both keyboard and controller inputs.
This game was originally developed as a gift (and weird joke) for ChairGTables and LAME Dimension.
Source material: LAME Dimension
Character design: Koshi L. (Yuuto Ichika), PulanSpeaks (Chizuru), ChairGTables
Character drawings: CodyYuki, MapleJava
Voices (character swap): Leaflit Mitsuha
Creators of sprites from source games: DannyRG, ChairGTables, Mr. Prez
Cool people: Solander (aka Makdous), TheChris, exodrifter, Pen, Elfy
Music: Various online sources (check credits file)
A text file with more complete credits is included with the game.


This game displays best at 1920x1080 or 3840x2160 resolutions.
1920x1080 is ideal and has the best performance.
For most resolutions, you can fix issues using windowed mode (Alt+Enter).
For lower resolutions, the graphics may not render correctly.
If the game runs slow, adjust "Graphics Quality" in the Settings menu.
| | |
| --- | --- |
| Status | Released |
| Platforms | Windows, Linux |
| Rating | |
| Author | LAMB Dimension |
| Genre | Action, Platformer |
| Tags | Anime, Boss battle, Bullet Hell, Cute, Difficult, Fangame, Pixel Art, Speedrun, Touhou |
Download
Comments
Log in with itch.io to leave a comment.
This game is fun to play and way too funny Q u Q
So many good surprises! I love it!
You changed my life forever